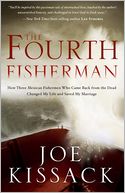 It was the subject of headlines around the world: Three Mexican fishermen in a small open boat without any supplies, drifting for more than nine months and 5500 miles across the Pacific Ocean. Through blistering sun and threatening storms, they battle starvation, dehydration, hopelessness, and death. An unwavering faith and a tattered Bible was their only lifeline.
In this true story of Tres Pescadores (Three Fishermen), is the telling of how they were rescued near Australia. In their story of survival, faith, and hope it is also Kissack's story as he tells how he was once as lost as they seemed to be.
At first glance, a high rolling television executive and three fishermen from Mexico have very little in common.
As the story unfolds we find a tale of outdoor adventure, a superstar television executive, whose life is in shambles, and the incredible ability of God to rescue them all through their faith.
I highly recommend this book for anyone who enjoys true life inspiration. The story is an easy read for those who don't know the Lord, for new Christians and those who have been walking with the Lord. This is a message of hope and grace available to anyone and an encouragement that God will use you not in the same way as he uses others. When you come to your moment of brokenness will you find that God is enough?
I received this book from

WaterBrook Multnomah Publishing as part of their blogging for books program in return for this review.